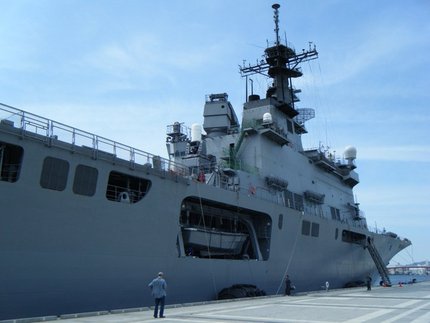 After Kagoshima, I flew to Nagasaki (by propeller plane - my first time!). Of course we visited Glover House/Glover Park. The old, western-style houses there are very unusual for Japan, but actually, you can see many similar houses in my hometown of Brisbane in Australia. They are popular because they look very stylish and have character.
Our hotel was next to Chinatown, and from there it was a short walk to Dejima, where the Portuguese and Dutch traders used to live. The history of this area is very interesting! But I feel sorry for the Portuguese - they got kicked out for being Christian. How rude!
From there, we walked to the harbourside. There are lots of cafe-style restaurants here, with tables outside, so you can enjoy the fresh air and nice views - great! Such a comfortable place to eat & chat, or chat & eat even.
Nearby is the art museum, which was also a nice place. Well, the art was rubbish, but the building was nice. There`s also a big, grassy park beside it, and, while we were there, there was a visiting Navy - sorry; `Self Defence Forces of Japan` - ship. Luckily for us, it was open to the public at that time, so we could go on a free tour of it - cool!
In the evening I went drinking with my Japanese friend and his cousin, who live in Nagasaki.
I was really impressed with Nagasaki - it seems like a really pleasant place. They even have old-fashioned trams (streetcars)!
Have you ever been to Nagasaki? What did you think? Were you tempted to steal coins from the fountain at Glover House?