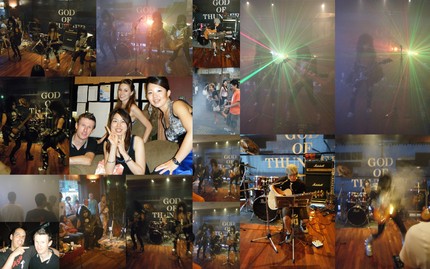 Do you remember your first kiss?

How about your first KISS LIVE CONCERT???

I do, & in both cases I was excited, embarrassed, and confused...

But I knew I wanted more!

So! Last Saturday I joined a crowd of rock romantics at Gifu Teragoya for another performance by our favorite Kiss tribute band, `God of Thunder`. Of course they didn`t disappoint, putting on a performance I don`t think anyone will ever forget. Even if they try hard to.

New additions since last time included a smoke machine, a cool laser display, & a new drummer. I had a nice chat to him & his lovely girlfriend afterwards. It was a strange experience talking to a guy wearing more make-up & sexier clothes than the girl beside him. He apologised for not singing `Bess` & I apologised for staring at his sequins.

Did you go to the concert? If not, you missed an awesome time!

Oh - & thanks Kiyotaka (Ichinomiya Teragoya student - Yay!) for your opening performance, including 2 songs in English - good job!