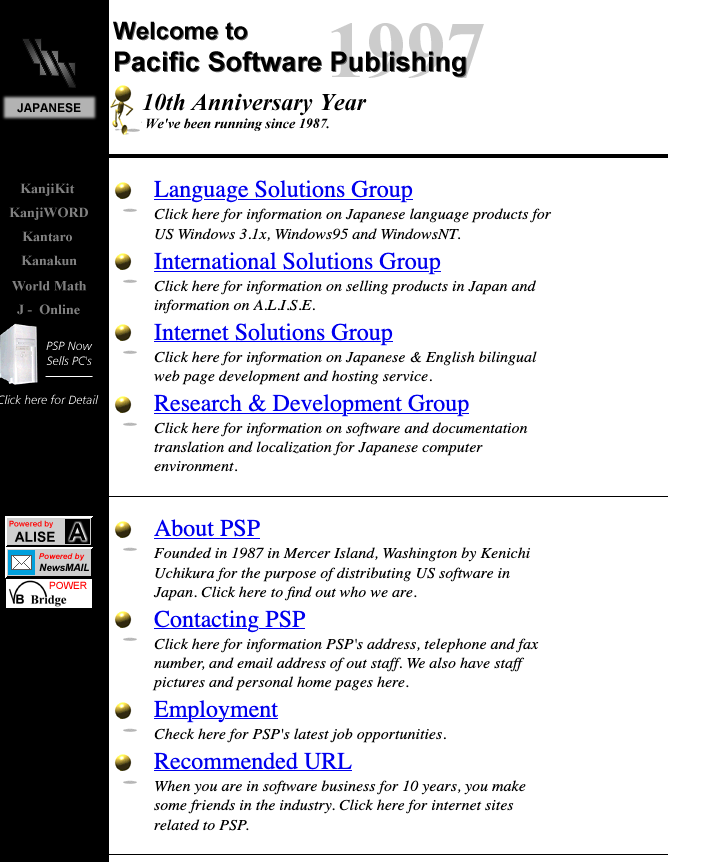 Following is the copy of PSPinc.com web page from 1997.
I wish we could charge that price now.
Our web space of 10MB is not 10GB.
Thais whopping 1000 times the size.





__..-・**・-..__..-・**・-..__..-・**・-..__..-・**・-..__




Pacific Software Publishing's MOSHIx2 is creating waves. Starting from simple HTML page hosting to a complete web commerce suite, MOSHIx2 has the right Internet solution for your business. Online ordering, secure encryption, BBS/Chat, web development, site promotion and marketing, search engine postings, and bilingual English/Japanese support are just a few of MOSHIx2's a-la-carte offerings. That way, you only pay for what you use. For more information ... give us a call.

Don't worry!
We know what we are doing....

Otherwise, we wouldn't be hosting the home
pages for the companies like "Mitsui & Co.
(USA), Inc.", "Tully's Coffee", "Computer News", "Takarajimasha", "Sumitomo Electric", "Discount Golf Superstore" and other companies at http://www. moshix2.net, PSP's internet mall.


Utilizing a dedicated T1 line from Sprint with reliable Windows NT based servers, we provide one of the best home page hosting environments in the industry.

Many hosting services will try to squeeze your Internet business into a mold. At PSP, we realize that no two businesses have the exact same needs. Your web site is a reflection of your company and often a first impression for many customers. We aim to provide outstanding personalized service and support to help make your experience a success.


New Pricing for 1997

Web Hosting, Server Hosting and Domain Registration

The Basic Web Hosting Plan still allows 10 MB of server space for $75.00/month, but starting January, 1997, you will be able to do commerce activity. This service includes homepage space, an FTP account, weekly stats, unlimited traffic, and more. Monthly hosting fees are the same whether you own a domain name or use a MOSHIx2 URL. For companies with greater needs, a dedicated server may be a more comprehensive solution.



Web Site Hosting(10 MB max) .... $75.00 / Month

- additional 10MB to 100MB .... $7.50 / per 1MB / Month


- additional 100MB or More ... $4.00 /per 1MB / Month

Web Server Hosting (Space Restricted by Server Hardware Only) .... Call

If you wish to have your own domain name, we can help you register with InterNIC or transfer an existing domain to our server. Remember, we allocate only 16 domains (IPs) per server to avoid traffic related slow downs.


Domain Name Search .... Always Free

Domain Name Registration and Server IP Setup .... $499.00 Domain Name
Transfer and Server IP Setup .... $399.00





__..-・**・-..__..-・**・-..__..-・**・-..__..-・**・-..__

Bloguru Signature

Kenichi Uchikura
President / CEO
Pacific Software Publishing, Inc.
ken.uchikura@pspinc.com

I am publishing newsletter every Wednesday.
I would like you to subescrbe at following URL.
It tales less than a minutes to read.
UCHIKURA CO
Thank you.

__..-・**・-..__..-・**・-..__..-・**・-..__..-・**・-..__