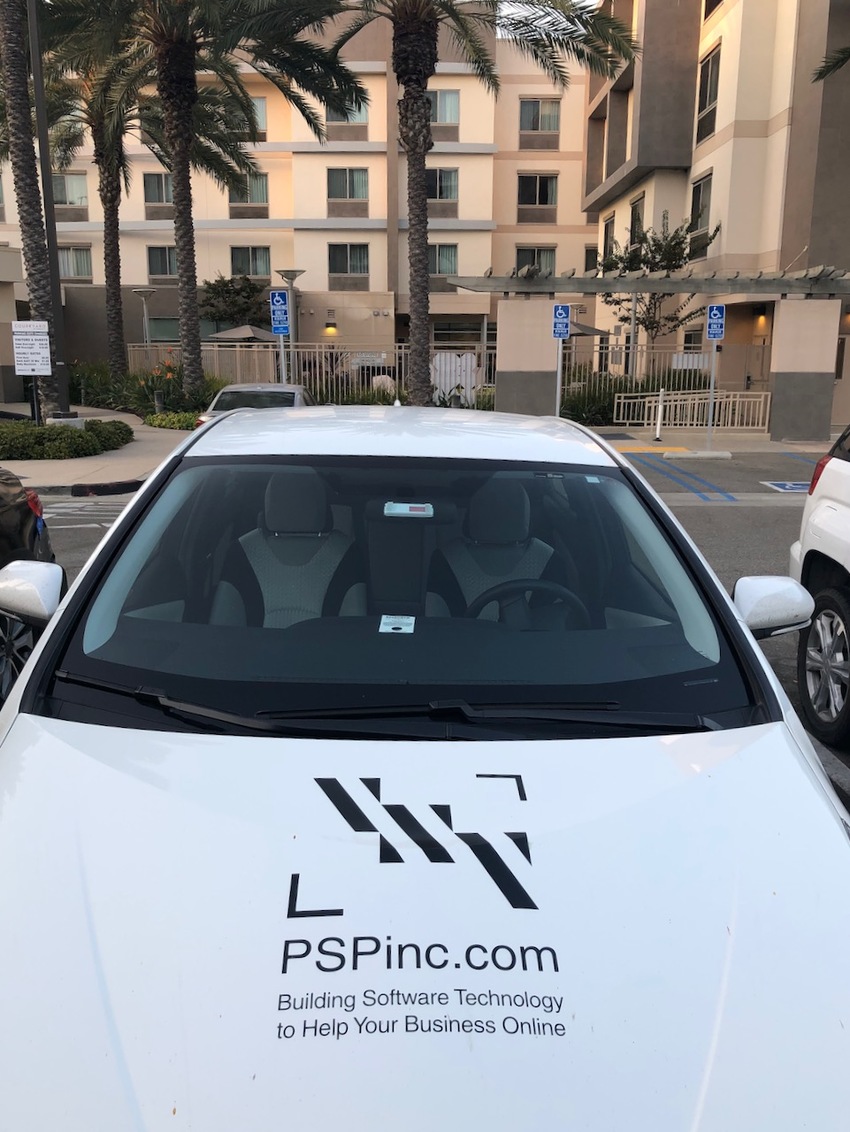 Heading to San Diego


From the end-of-September to October 2nd, I visited San Diego, California. I drove from Bellevue to San Diego to bring one of our company cars down there. I left my house at 8:00am. on September 26th and headed south. I got to Oregon in less than 3 hours, the first rest stop was in the middle of Oregon State where I stretched my legs a bit, took a 5 minute break, and then headed south again. The next stop was at 1:00pm, where I filled up in Oregon.

Oregon doesn't allow self-service gasoline, so I had to have it filled. At $2.559 a gallon, the price seemed cheap. Also, since I was driving a Toyota Prius, the tank is small and I filled it up at 7.5 gallons. Next, at 2:30pm, I took a break at a freeway rest stop, I was still not out of Oregon.

There has been a lot of fires lately, and the scars of those fires are visible right next to the freeway. I entered California at about 3:30pm. I kept driving on the freeway through the mountains, so I didn't see any signs that said "Welcome to California". However, I could see Mt. Shasta and I knew I was in California. Continuing on, I came to a California Fruit Checkpoint. There I was asked if I had any fruit, to which I said "No" and I moved along.

The next stop was at 4:30pm at a rest stop in Lakehead, California. My legs were tired and I wondered how much further I could go, I decided to continue driving south. I arrived in Sacramento, California at 7:00pm and decided to spend the night there, I had driven 750 miles on the first day.

The next morning I left the hotel at 8:30am to fill up the tank and have breakfast. I didn't want to go into a restaurant, so I bought McDonald's breakfast at the drive-through and ate it in the parking lot. I continued my journey south from there. There are rice fields on either side of the freeway, and continue on for miles and miles. You can feel the size of America, and to be frank, the scenery doesn't change for hours, it gets boring.

I then hit mountain roads and drove east of Los Angeles just after 2:30pm. My goal for the day was to spend the night south of Los Angeles. My plan was to meet our company staff here on Monday morning. I found a hotel near our destination and at the end of the day's journey I had covered 1,100 miles total. My mileage for the day was 350 miles, which is half the distance of the first day - this was easy. In the evening, I had a Japanese dinner in a city called Torrance, California before going to the hotel. I ate alone at a table outside, not in the restaurant.

On the third day, I met with our local staff at 8:00am and I started my journey to San Diego at 9:15am. Upon arriving in San Diego, I had driven 1,200 miles, which was covered in 17 hours and 45 minutes. On the last day of the drive I did 100 miles. The speed limit was 65 MPH, and in some places the speed exceeded 95 MPH, so the third day was the most mentally exhausting. Even so, I was able to arrive at our San Diego office before noon and I was pretty tired. Next time I'll tell you about San Diego. Thank you for reading.









Kenichi Uchikura
President / CEO
Pacific Software Publishing, Inc.
ken.uchikura@pspinc.com

__..-・**・-..__..-・**・-..__..-・**・-..__..-・**・-..__

Search and Reserve Your Domain Name




__..-・**・-..__..-・**・-..__..-・**・-..__..-・**・-..__

I am publishing newsletter every Wednesday.
I would like you to subescrbe at following URL.
It tales less than a minutes to read.
UCHIKURA CO
Thank you.

__..-・**・-..__..-・**・-..__..-・**・-..__..-・**・-..__



#PacificSoftwarePublishing #PSPinc #KenichiUchikura #KenUchikura #UchikuraCo #Bloguru
#BusinessPlanner #BusinessManager #Inventor #Bellevue #Seattle #Tokyo #Japanese