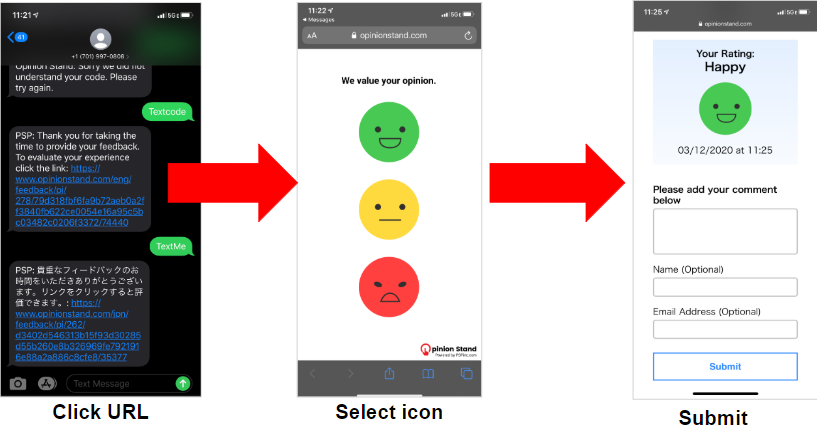 Vol.2

We developed the Opinion Stand as a way for business owners to determine what their customers think of their company and to gather contact information for marketing purposes. What sets Opinion Stand apart from traditional paper and online surveys is the ease-of-use and minimum required customer commitment to get true business insight. Meaning your customers will not have to invest a large amount of time to provide data critical to your business growth.

Opinion Stand Papyrus is a versatile application that puts the power of the Opinion Stand into your customer's hands. You can print flyers, menus, table tents, and receipts with QR codes they can scan with their smartphones. From there they can do all of the Opinion Stand operations in the palm of their hands.

Previously users would need to scan a QR code to gain access to the Opinion Stand on their mobile device. Which is a fantastic and simple feature. Though if you were unfamiliar with QR code technology, it involves educating yourself a bit on it.

Since we are so focused on making this the absolute simplest and quickest way of gathering feedback from your customers, we are always thinking of new features to lean into that mindset.

With that in mind we just released the text message feature!

The vast majority of smartphone owners know how to send text messages, even if you are unfamiliar with QR codes. With Opinion Stand Papyrus you can now define a unique text code for each of your Stands. Simply add the text message code and the phone number to your print collateral and you are set! Customers can now text the code and instantly receive a reply with a link to the Opinion Stand.

Does this type of tool sound useful to your business? If so, please don' hesitate to contact us. We would love the opportunity to learn more about your business and see if Opinion Stand is the right fit for you.

Website: https://www.opinionstand.com
Email: info@opinionstand.com
Telephone: 1-800-232-3989 or 1-425-957-0808

Kenichi Uchikura
President / CEO
Pacific Software Publishing, Inc.

We are coming to the Restaurant Leadership Conference!

Hello there, this is Mayumi Nakamura, Director of Business Development here at PSPinc. You may have heard through our newsletters and social media channels that we will be attending the Restaurant Leadership Conference this year. I wanted to provide you with a bit more information regarding our involvement in the conference.

The Restaurant Leadership Conference will be held between March 22nd - 25th in Phoenix, AZ. It is an event where restaurant leaders will gather to learn about the trends in the industry.

I will be in attendance to showcase our Opinion Stands throughout the venue so these leaders will get a chance to provide their opinions on the conference itself. And obviously we will be showing off our latest features such as "text-to-give-feedback" and our latest stats enhancements during the Market Place exhibitions.

If you are planning to attend this show, please let us know. We would be delighted to meet you in person in Phoenix!

Mayumi Nakamura
Director of Business Development
Pacific Software Publishing, Inc.