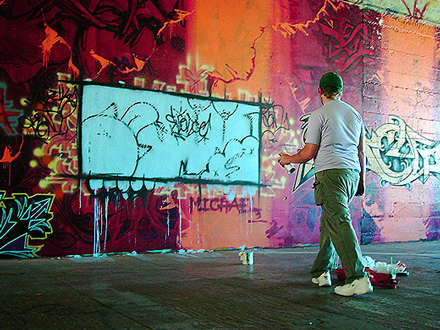 Tacoma, WA 07/2003
I saw the artist at TCC in fall, 2003. Billye was an outlaw & broke. He loved Grafitti & Japanese Girl. It was an accident we saw. I had a chance to show him my portfolio, then we became friends.
After before long, he introduced me the artist in Seattle. Damon was the character artist, and he already had one strong character. His style is sort of the designer, and his major was Graphic Design at SCCC. My English skill was bad, and I remember it was hard to talk to him; however, I sometimes saw him after the first party and we were acquainted.
Seattle-based HipHop musician made debut 2 years ago. Blue Scholars is old school as the local style. They used to be featured on the newspaper & MTV.
Damon had joined the Nike event before. At this time, he was joining the T-Shirt event at Blue Scholars. I accidentally saw the website, and it was a great surprise.
http://www.bluescholars.com/artistedition/02_peekaboo.html
Billye left for Queens, NY, then I had not seen Damon for a long time. Hope to see and play together in the future.