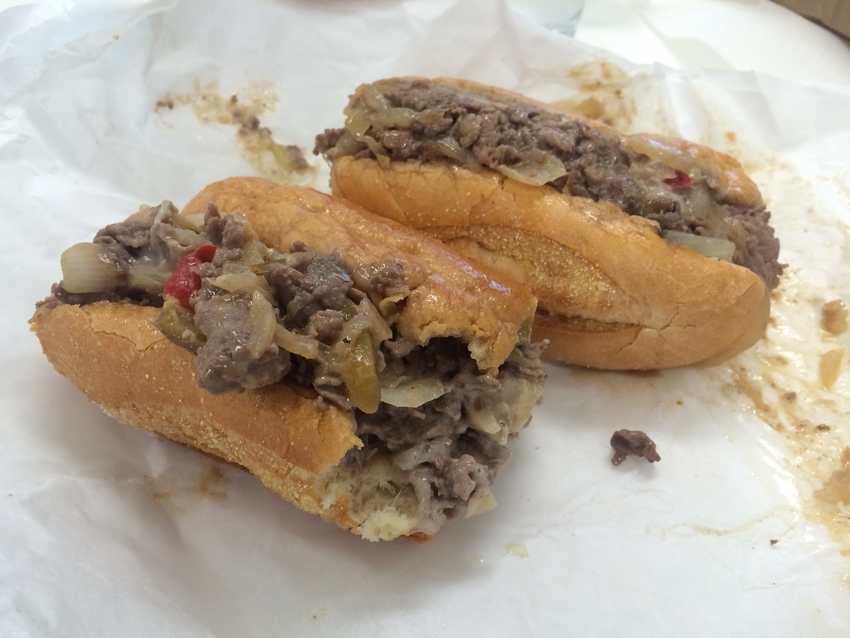 Tat's Delicatessen is often listed as a "must-try" spot in Seattle for east coast sandwiches, so when I saw their food truck stationed near work I had to try their famous Philly Cheesesteak. I grew up eating cheesesteaks on the east coast along the New Jersey-Philadelphia border. My dad requests cheesesteaks when he visits so I've been looking for good places to take him, too. Tat's Truck's standard cheesesteak is a blend of cheese, peppers, onions, and thinly sliced rib-eye. You can ask them for cheez whiz or extra toppings like mushrooms and banana peppers instead. I went with the standard. My order was ready before I finished paying for my food, making Tat's the most efficient food truck experience I've had thus far. A few moments after I arrived a big line started to form, so maybe I lucked out!

My order smelled so good. The wonderful pepper and onion aroma saturated the car on my drive to back to the office. As for the sandwich itself...it was still nice and hot after the drive back to the office lunch room! So far, so good. Once unwrapped, the first thing I noticed was how much meat was piled onto the bread! And yeah, the bread was fresh and soft and still held together even though it was piled high. Each bite was everything I remember about authentic Philly Cheesesteaks. My only critique is the sandwich could have used a little something extra, flavor-wise... so I added ketchup like a Philly native to the half I saved for dinner and then the sandwich really hit the spot.

Bottom line? It reminds me of home. I'll be back with dad.